Acupressure Back Relaxation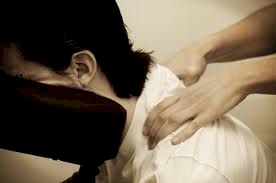 Seated acupressure back relaxation or on-site back relaxation was developed in the USA in 1986 and has become increasingly popular since then. It is an immediate stressbuster, working to relieve tired aching muscles in the short term and, due to it's ability to relieve stress, maintaining overall health in the long term.
The back relaxation incorporates over 60 specific stress release points on the head, neck, shoulders, arms and back, to leave the client relaxed and calm yet energized and alert. The sequence has been developed to produce the maximum beneficial results for the client in a short period of time.
Price for 20 minutes $20 ~~ 60 minutes $55.
Foot Reflexology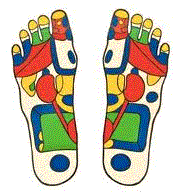 Foot Reflexology is the practice of applying pressure to the feet utilizing specific thumb, finger and hand techniques based on a system of zones and reflex areas that reflect an image of the body on the feet. The premise is that such work effects a physical change in the body. Research has demonstrated such effects for several reflex areas and their reflected parts of the body.
In general terms, the benefits of reflexology have to do with the reduction of stress. Because the feet help set the tension level for the rest of the body, they are an easy way to interrupt the stress signal and reset homeostasis, the body's equilibrium.
Price for 60 minutes $28.
Hot Stone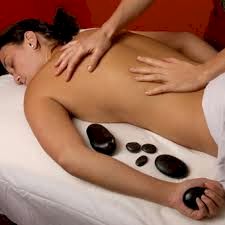 In Hot stone therapy, smooth, water-heated stones are placed at key points on the body. The process melts away tension, eases muscle stiffness and increases circulation and metabolism.
The premise behind hot stone therapy is that the direct heat of the stones relaxes muscles, allowing the therapist access to the deeper muscle layers. Combining hot stone protocols with a full body relaxation provides a very healing and effective experience. The hot stones also expand blood vessels, which encourages blood flow throughout the body. The hot stones have a sedative effect that can relieve chronic pain, reduce stress and promote deep relaxation. Not recommended for clients with diabetes, high blood pressure and pregnancy.
Price for 10 minutes $12 ~~ 60 minutes $55.